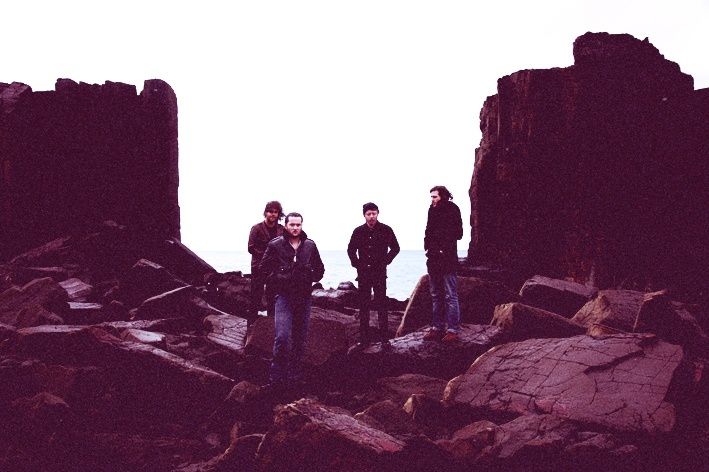 [MAJ 16/03/12] Après avoir été séduit par le style musical de ces Australiens, c'est très courtoisement qu'ils ont répondu à quelques questions. Nous les remercions pour leurs réponses riches et pleines d'humour. Découvrez dès à présent l'univers singulier de ce groupe qui a tout pour s'imposer de façon internationale, notamment en France.
[publié le 28/02/12] Une fois n'est pas coutume, les tendances musicales sont ces derniers jours très portées vers le rock. Après les Arctic Monkeys, ce sont aujourd'hui les quatre garçons de Wolf & Cub qui sont en haut de l'affiche. Nous ne disposons que de très peu d'informations sur le quator qui semble être originaire d'Adelaide en Australie. Les amateurs de rock alternatif ne seront probablement pas déçus, le groupe répondant totalement aux attentes du genre.
D'où vient le nom de votre groupe ? Il est plutôt mystérieux…
Why this band name? It is rather mysterious…

Je l'ai volé d'un de mes mangas japonais favoris, et plus tard de la bonne adaptation télévisée appelée Lone Wolf & Cub qui fut écrite par Kazou Koike et illustrée par Goseji Kojima dans les années 1970. J'ai enlevé le « Lone » et gardé le « Wolf & Cub ».
I stole it from one of my favourite Japanese comic book, and later a decent film adaptation series called Lone Wolf & Cub which was written by Kazou Koike and illustrated by Goseki Kojima in the 70s. I dropped the lone and stole the Wolf & Cub.

Quel âge a le groupe ? Qui l'a créé ?
How long is the group? Who created it?

Nous nous sommes formés officiellement en 2003, donc cela fait combien de temps ? Presque 10 ans ! Le groupe a débuté avec moi et deux autres potes qui étaient aussi amis avec mon petit frère. Ceux là ne sont plus dans le groupe, mais peu après nous avons trouvé notre quatrième membre, JC, qui est encore ici.

I think we formed, officially in 2003, so how long is that? Almost 10 years! The band started with myself and two other guys who were friends of my younger brother. Those guys are no longer in the band, shortly after we started though we got our fourth member, JC, who is still in the band.

Comment pourriez-vous définir votre musique ?
How do you define your music?

Je pense que la plupart des groupes s'efforcent de produire un son difficile à catégoriser ou pas trop orientés vers un genre ou la musique de quelqu'un d'autre. Je crois que nous voulons aussi faire ça mais je ne suis pas assez naïf pour penser que ce que nous faisons est unique dans le vaste monde de la musique.
À mon avis notre son est principalement dérivé du blues rock, quelques fois il est éclaboussé par petites touches de kraut rock, psych, no wave, garage… etc. À la fin de la journée nous sommes un groupe de rock… enfin je suppose ! Nous sommes tous fans de beaucoup de genres de musique différents alors nous nous efforçons de faire un son qui mixe beaucoup de nos influences.

Well I guess most bands strive to have a sound that is difficult to categorise or not too derivative of something, or someone else's sound. I guess we want that too but I'm not that naive to think that what we're doing is that unique in the grand scheme of things.
I guess our sound is mostly derivative of blues rock, but a various times it's painted with splashes of kraut, psych, No wave, garage etc. At the end of the day we're a rock band I spose. We're all fans of lots of different kinds of music so I guess we strive for a sound that mixes a lot of those influences.

Appréciez-vous d'autres styles de musique, qui pourraient être totalement opposés au rock ?
Do you enjoy other styles of music, that could be totally opposed to rock?

Absolument. Je possède un radio-réveil juste à côté de mon lit qui est branché sur la station de musique classique, ce qui est une excellente manière de se réveiller le matin. Notre batteur est un très grand fan de hip-hop, comme le reste du groupe. Nous aimons tout, sauf le ska.

Absolutely. I have a clock radio next my bed that is tuned into the classical music station, which is a great way to wake up to the day. Our drummer is a massive hip hop fan, as are the rest of us. We like everything, except ska.

Quelles sont vos inspirations en termes de genres de musique et de groupes ?
What are your inspirations in terms of music genres and groups?

Je pense que nous avons commencé par du no wave, influencé par un genre de post/punk, ce qui est à mon avis une bonne direction pour les nouveaux groupes. PiL a été une influence majeure pour nous, avec Liquid Liquid. Aujourd'hui, nous semblons plus inspirés par le rock classique : Tom petty & The Heartbreakers, Bruce Springsteen, The Stones, et Mo Town. Nous sommes toujours influencés par du rock un peu bizarre ou psyché, ce genre de choses, mais je crois que nous essayons de créer un son tout de même plus équilibré et structuré. L'idée de créer quelque chose de nouveau. J'ai abandonné cette idée du son « nouveau » après avoir vu ça : cliquez ici.

I think we started out as a no wave, post punk/pysch influenced kind of thing, which I think is a pretty typical direction for most new bands. PiL were a pretty influence on us, also can and Liquid Liquid. These days, I seem to be more influenced by classic rock, Tom Petty & The Heart Breakers, Bruce Springsteen, The Stones, and Mo Town. There seems to be more of an emphasis on trying to write well-constructed songs with strong melodies. We're still influenced by a lot of pysch and weirder rock stuff but I think we're trying to create stuff that is a bit more balanced. I'm less interested in trying to create something new. I gave up looking for the "new sound" after I saw this : click here.

Combien de concerts avez-vous fait et comment les avez-vous ressentis ?
How many concerts have you done and how did you felt it?

Je ne suis pas sur du nombre. J'aurais vraiment aimé avoir une trace de toutes les scènes que nous avons faites mais certains concerts sont sûrement à oublier. Je pense que nous devons être approximativement autour des 500, peut-être 400.

Not sure. I would have loved to keep track of every show we've ever played but some shows are best left forgotten. I guess it would have to be close to 500, maybe 400.

Quels sont les thèmes récurrents dans vos compos ?
What are the recurring themes in your compositions?

Un sens du rythme omniprésent semble être une de nos marques de fabrique. Nous essayons de faire de la musique sur laquelle les gens pourraient danser, mais ne pensons pas non plus faire de la dance.

A strong sense of Rhythm seems to be the most recurring theme I suppose. We aim to make music that you could dance too, but don't necessarily think we make dance music.

Pensez-vous être représentatifs de la nouvelle scène musicale australienne ?
Do you think you are representative of the growing Australian music scene?

La scène musicale australienne semble être constituée de nombreux jeunes groupes aujourd'hui, alors pas vraiment. Nous nous sentons vieux ; nous sommes ensemble depuis bientôt dix ans donc je pense que nous sommes plus proches de vieux meubles que d'appareils électroniques high-tech.

Well the Australian music scene seems to be made up of a lot of younger bands these days so, maybe not so much. We feel old; we've been around for ten years so I guess we feel more like the furniture rather than the new electrical appliances.

Avez-vous des projets ? Si oui, lesquels ?
Do you have plans for the future? Which ones?

Nous sommes sur le point de finir notre troisième album. Nos plans sont de le terminer puis de tout défoncer sur la tournée qui suit ! Nous aimerions vraiment venir jouer en France, peut-être qu'en faisant cette interview quelqu'un pourrait organiser notre venue ?

We're in the thick of finishing our Third album. Our plans are to finish it off and then tour the shit out of it. We'd love to come to France, maybe you can organise it for us?

Un mot pour les français ?
A word for French people?

J'ai découvert la France pour la première fois grâce au Tour de France. Mon père est cycliste alors nous suivions le tour tous les ans depuis un bout de temps. J'ai plus tard visité Paris quand j'étais un peu plus grand. Avant cela ma seule vision de la France, c'était ça : cliquez ici.
Si vous nous invitez, nous viendrons !

My first introduction to France was through the Tour De France. My father is cyclist so we would tune into the coverage of the tour every year since I can remember. I later visited Paris when I was a little older. Before that though my only reference to France was this : click here.
If you invite us, we will come.


Pour être informé des derniers articles, inscrivez vous :